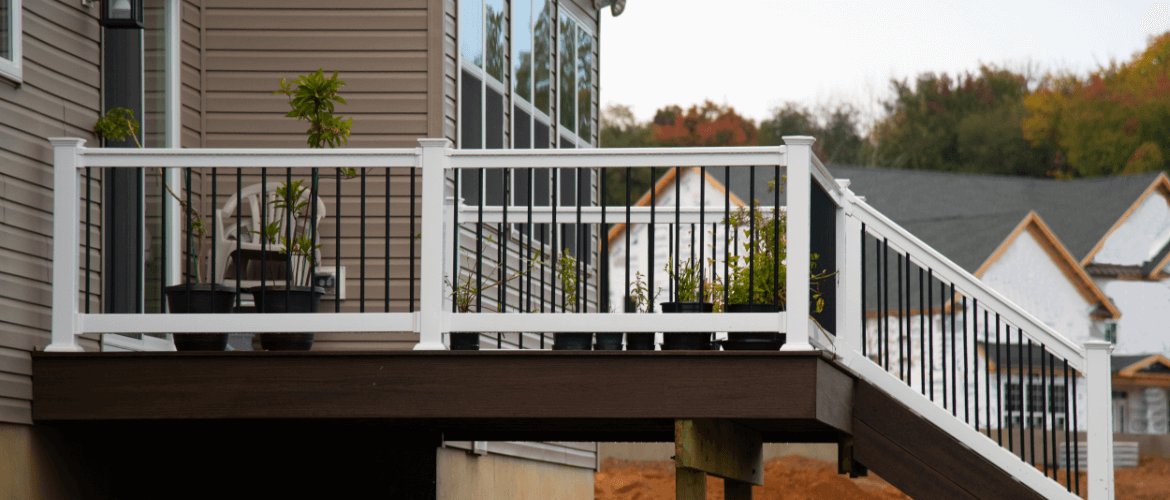 With daily changing lifestyles and trends in the Design and metal industry sector, we have ample choices for selecting types of railing and fencing materials.
Railings are an integral part of any house, and utmost attention must be paid while selecting the correct railings for long sustainable use.
Keeping in mind the threshold of toughness, you must also consider the house's aesthetics and area and select the most optimal railings that would compliment the overall look.
Before reading any further, let us first have a look at what is railing and its purpose?
What Is Railing and Its Purpose?
The primary work of the railing is to protect you from falling. Railings are very important in every infrastructure like a hospital, commercial or residential organization and choosing the right one is often the most challenging task.
Railings provide safety and give an attractive look to the building and apartments. When there are unprotected stairs or railing, there are chances that someone may trip over the path, and it may cause significant injuries.
The Canadian broadcasting corporation has reported that one of the five dangerous accidents that occur by falling is from tripping over the stairs. Many people get injured falling from the railings.
Let us have a look at things to consider before selecting a railing:
4 Factors to consider while choosing railing material:
It has to be cost-effective:

The amount of money will decide the quality of the railing. Wood is the most effective railing coating material for stairs. It will protect from injuries also, and good quality wood material will last for many years. However, there are also a variety of cost-effective options available in stainless steel and aluminum railings.

It has to be durable and have a long life: Railings made of Aluminum and stainless steel are durable and have a long life. Everyone wants to install railings that come with suitable material to last for several years and prevent any cause of injury.

Railings experience considerable wear and tear in extreme weather; they will get damaged if not maintained properly. Maintaining it regularly will help in enduring long-term benefits.

General maintenance: We understand that not everybody is fond of maintaining the railings around them, so while choosing the appropriate railing, select a railing coating material that requires minimum maintenance.


Building Codes: Before buying railings, one must know the building codes. The main building code is the height of the building, and it must be paid due attention because it will prevent you and your family from several injuries.


Appealing look: Railing also gives a classy look to the buildings as they are the essential part of the house. Besides giving an appealing look, it also gives protection. Curved railings made by professionals will give a charming and fantastic look that you are looking for.
Let us now quickly go through the types of railing materials and things one must know about each of them:
Let's dive deeper into the types of railing materials available before choosing the perfect railings!!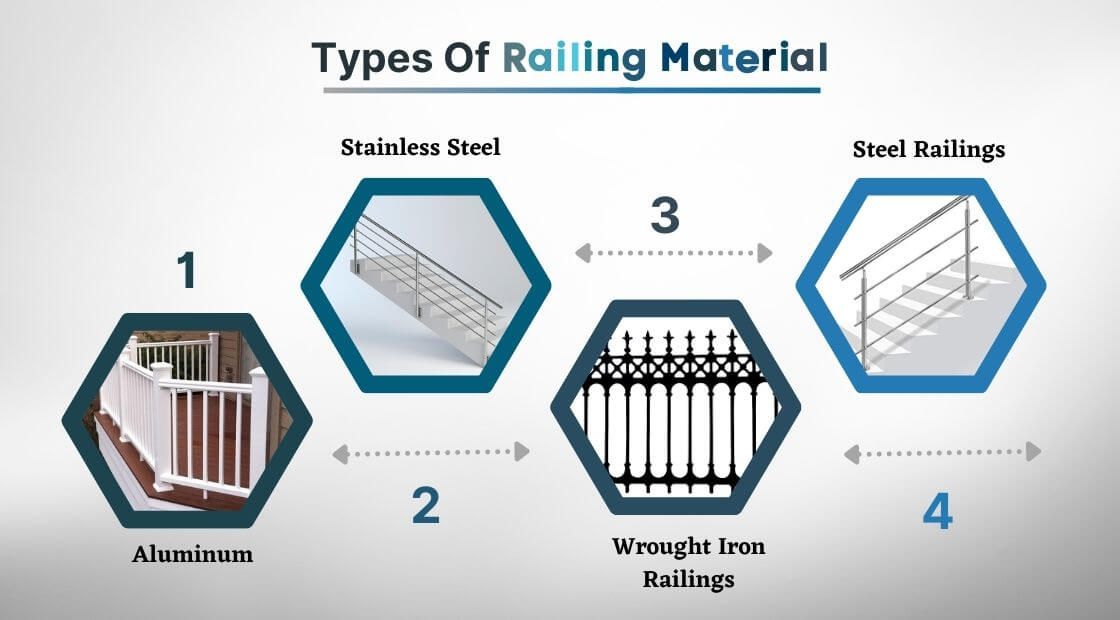 Types of Railings
Aluminum: It protects the railings from rust and corrosion. It is durable and is maintenance-free.


Stainless Steel: A weatherproof coating is provided at the outdoor counterpart to make it look shiny. Stainless steel is the most corrosion-resistant material in the market.


Steel railings: Steel railings open a wide ground for variety and durability in one.


Wrought iron railings: Wrought iron railings are often expensive and basically used outdoors to give a classy look to the buildings.
Things to Know About Each Railing:
Things to know about Aluminum railings:

Aluminum railings can be considered to be a good choice for outdoor and deck entrances. Stainless steel railings provide long-lasting stability and are safe for the environment.

Aluminum railings require low maintenance and can fight any weather influences. They are light in weight and easy to install, which ultimately makes them pocket-friendly railings.

Things to know about metal railings:

Considering the usage of exterior railings, heavy-duty metal handrails are a significant choice for support. Along with durability, metal railings provide a firmer grip on the handrails.

According to an article published by HOME LANE, stainless steel railings are probably one the best railing material types. They are considered significantly more substantial than any other form of railing.

Things to know about commercial railings

Commercial buildings like schools, hospitals, hotels, and public buildings must have railings for safety purposes. In such places, where kids and old people come frequently, extra care must be taken for fencing safety. In some instances, railings are obligatory, such as for stairs, balconies and decks to provide adequate support and act as a barrier.

Things to know about glass railings:

Glass railings give a pleasant look to the building because it gives you visibility of the surrounding environment. They are pretty expensive and need good maintenance and frequent cleaning because dirt and dust particles stick to them, making an appearance look dull.

The glass panels are accompanied by aluminum rail posts. Tempered glass is prone to surface cracking when exposed to extreme temperatures, unlike hardwood railings.

According to the survey statistics published by HOUZZ IN, glass railings are more likely installed in open and aesthetic areas of a house, such as balconies.

The classic and shiny finishing adds to the beauty of the area and is a perfect choice for delicate and sober-looking railings.

Things To Know About Wood railings.

There are so many different types of woods from which railings are made, which gives an elegant look to the building. There are a significantly smaller number of manufacturers who supply wood railings because it will get damaged quickly and requires proper maintenance.

These wood railings need to be painted annually. Commonly used woods are oak, maple, mahogany. It gives you a natural look and is economically reasonable that can be afforded by anyone.
Railings have become an essential feature of architecture. They provide an outline of our boundaries and even help give defining strokes to the look of our buildings.
Given the wide variety of available railings and the plethora of materials that can be used to fashion them, finding the right kind of railings has become a precise task.
The railings must be made of good material and should be strong enough so that any force thrust upon the railings does not cause any damage to it. Railings are made in a wide variety to give a good and classy look to the buildings.
After reading the tips and insightful information on various types of railings. Make an informed decision and choose your perfect powder coated railings now!!!
For more information on types of railings, visit our website and have a look at the great railings and materials available at DECO RAILINGS. The neat and quick installation offered by them is what customers want.
Choose DECO RAILINGS and have access to a wide variety of railings options and experience the best railings services. DECO RAILINGS has been serving the best quality railings for many years now.
Feel free to call us at 780-708-3765 and drop your queries at: kamal@edmontonaluminumrailings.ca