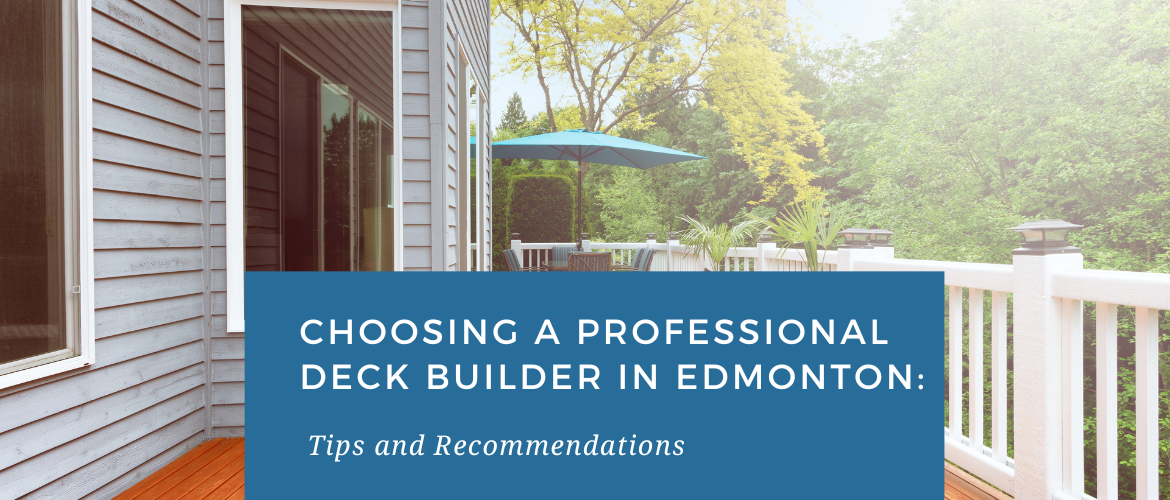 A house is a place of comfort and coziness, and decks add an extra touch of comfort, luxury, and beauty. If you have access to the beautiful landscapes of Edmonton, consider working with a deck-building service to create a custom deck that matches your needs, aspirations, and budget.
Getting Started
Before beginning the deck-building process, it's important to have a blueprint in place. Ask yourself questions about your budget, preferred materials and railings, and any specific features you envision for your deck. If you need assistance with these decisions, your deck builder can guide you through the process.

Online Reviews:

Start your search by looking for deck builders in Edmonton online. Pay attention to customer reviews, as they can provide valuable insights into the reputation and quality of different builders.

Recommendations:

Reach out to friends and family who have had deck-building projects done in Edmonton. Their recommendations can help you narrow down your options. Don't forget to check the online reviews and browse through pictures of previous projects by recommended deck builders.

In-Person Meetings:

If possible, arrange meetings with deck builders in your area. This will allow you to witness their deck installation process, get a sense of their work quality, and ask specific questions about the materials they use. Vinyl decking is a popular choice in Edmonton, but there are other options like pressure-treated wood, cedar decks, timber materials, composite lumber, wool, and thermally modified plastics.

Portfolio and Site visit:

Take a look at the deck builders' portfolios to gauge their expertise, installation processes, and materials used. Once you've shortlisted your top three deck builders, invite them to visit your site and discuss the project details, including materials, duration, and the type of deck that would suit the location.
Key Questions to Ask
Prepare a list of question to ask potential deck builders, including
Do you have a certified license?
How long will the deck building project take to complete?
How long will the deck building project take to complete?
What warranties do you offer?
What are the payment terms and methods?
Can you build specific deck types, such as Wraparound Decks, Multi-Tier Decks, Attached Decks, or Rooftop Decks?
Conclusion
By following these tips, you'll be able to find the right professional deck builder in Edmonton who can bring your vision to life. Quality should always be a priority over quantity when selecting your deck builder. Decorailings is a trusted and premium deck builder in Edmonton, offering stunning designs and top-notch services. Visit their website at decorailings.com for beautiful deck options.
Feel free to contact us at kamal@edmontonaluminumrailings.ca for any inquiries or questions. We look forward to helping you create the perfect deck for your space.